Keeping your UK business safe from online threats in 2022
Author: Sonia Older | Date published: November 07, 2022, UK | Read est: 6 min read
As a digital presence is a natural part of growing any enterprise today, it is essential that business owners have reliable cyber security measures in place to avoid costly damage. Unfortunately, many businesses (small, medium and large) are not technologically prepared to withstand the range of cyber security threats posed by modern hackers. Many organisations lack a basic cyber strategy and often fail to take endpoint security into consideration.
According to a recent government survey, up to 39% of all UK businesses have identified a cyber-attack in the last 12 months. This figure has been fairly consistent over the last 5 years because of an increased digital footprint and more employees using personal devices for work. In response, the British government has put forward its own 10-point digital hygiene plan, which includes guidance around data security, architecture configuration and vulnerability management.
How significant is the problem?
Examining the 39% of UK businesses who were able to identify a cyber-attack, the most common threat vector was through phishing (malicious links sent through emails and other messaging formats). Around one in five businesses identified a more sophisticated attack type, such as a denial of service (overwhelming a targeted machine with requests), malware (types of viruses or trojan horses) or ransomware attack (a form of malware that locks the user out of their device through encryption until a ransom is paid).
To put the figures from the report into perspective, the average cost of these attacks for medium and large companies was around £19,400. The government found that 31% of businesses were attacked at least once a week, one in five businesses reported a negative outcome as a consequence of a cyber security breach, and one third of all businesses experienced at least one negative impact from a cyber-attack.
More worryingly, the report highlighted how the introduction of enhanced cybersecurity in businesses has increased the number of cyber-attack identifications. This suggests that many organisations, without adequate cyber security services, may be underreporting their number of breaches. Overall, this means businesses might be underestimating the threats currently active in the digital space.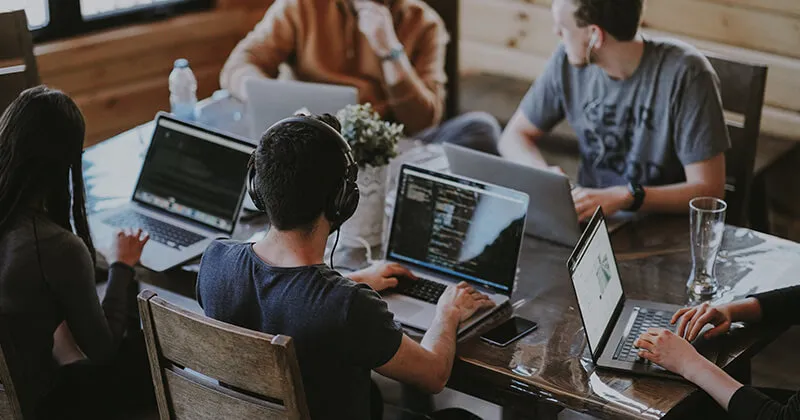 How can you prevent cyber crime in your businesses?
As attacks continue to be a common occurrence, we think it's vital that all business owners know how to prevent and reduce the frequency of cyber security breaches. To begin with, we recommend cyber security awareness training for all staff, creating data security protocols, and conducting regular assessments of all digital assets and vulnerabilities in your network. We also advise having a dedicated security operations centre (SOC), or provider, which includes tools and systems that can monitor activities on the dark web.
Our top 5 cyber security tips for businesses
1. Security awareness training
With 90% of data breaches resulting from human error, employees continue to pose the largest cyber risk to most organisations. Our comprehensive cyber security awareness training and testing service is a fully-managed, online platform and is an absolute 'must' for any size business.
2. A managed security operations centre (SOC)
To get the right level of protection when operating in the digital sphere, organisations need to deploy a combination of different security methods and solutions. Although cumbersome and time-consuming, these measures can be easily handled by our dedicated security operations centre service.
3. Vulnerability assessments
Identifying where and how cyber-attacks can happen in your network is the fundamental first step in making your business cyber-secure. Our cyber specialists can deliver all the security insights your business needs to build comprehensive vulnerability assessments and a strategy that's futureproof.
4. Dark web monitoring
If you're just starting your journey towards making your business cyber secure, there's a chance that your network has already been hacked and sensitive information is readily available on the dark web. With our dark web monitoring service, we can identify if and where your credentials have been leaked and make recommendations on how to be more secure going forward.
Related content
> Digital Workplace solutions

> Build you Focus Shield

> Cyber security in retail
Security by Digital Workplace
If you're not familiar with the inner workings of the digital landscape, cyber security can seem overwhelming and complex, but it doesn't have to be. Security by Digital Workplace is an all-in-one solution that provides comprehensive and proactive cyber protection for past, future and ongoing threats. Our in-house experts handle all aspects of your cyber security strategy, including everything mentioned in this article, access to the most recent security patches and protection from the latest security tools. You'll sleep easy knowing your business is in safe hands with us.
Sonia Older
Brand & Campaign Manager
Sonia Older is the Campaign Manager at Focus Group and a highly experienced copywriter. She boasts over 20 years of experience in content marketing and PR across multiple industries, and is the key driver of content and PR for Focus Group across all UK offices. Away from work, Sonia usually swaps keyboard strokes for ski slopes in the Alps with her family.