Dark web monitoring services
Don't let the dark side of the internet threaten your business. Our dark web monitoring services help your business to stay on top of your dark web exposure and with the help of our specialists lower the risk of falling victim to a cyber attack due to stolen credentials.
Deep and dark web monitoring
The internet has revolutionised our businesses and our way of life but it's also prime territory for cyber criminals looking for ways to infiltrate your business and its data. Lost or stolen passwords that appear on the dark web can be all a cybercriminal needs to access your critical business systems and applications, meaning all the key tools you need to operate – email, web browsing, cloud computing, software and hardware – are all vulnerable to attack.
The dark web is a lucrative network that cybercriminals use to obtain illegal goods, including login credentials such as usernames and passwords for user accounts to business networks and applications. Once obtained, hackers can use these to gain easy access to the critical systems and applications used to keep your business functioning and cause all kinds of damage that often results in financial, data and reputation damage.
Cyber security is more important than ever before to protect your business as compromised data business credentials available on the dark web. Our dark web monitoring services will monitor your exposure on the dark web so you don't have to. With dark web monitoring we can identify where your credentials have been leaked on the dark web and make recommendations to improve your business cyber security.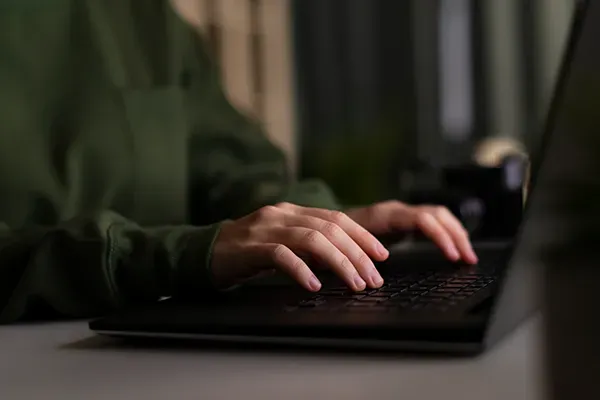 Are your business credentials on the dark web?
Your employees appearing on the dark web is often not a result of your business experiencing a data breach, it's due to third party websites and applications that your staff use becoming breached.
47% of people use the same usernames and passwords across multiple sites and applications, so if a hacker is looking to target your business, there is a high possibility that the credentials they obtain from your employees will give them the keys to your business network. A staggering 81% of hacking-related breaches leverage either stolen and/or weak passwords.
Our dark web monitoring specialists will conduct a full review based on your corporate domains and provide a detailed report which will outline any credentials relating to your business are currently available on the dark web. Once your report is finished our specialists will then work with you to tackle these breaches, ensuring that any leaked credentials become invalid before issues arise and addressing the source of the data breach.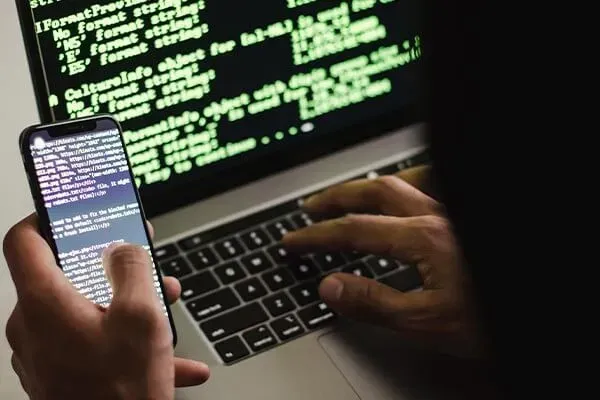 Benefits of dark web monitoring services for business

Regular security checks
Dark web monitoring which continually scans the dark web for sensitive information connected to your business's corporate web domains, email domains, login credentials, customer data and IP addresses. If this information is discovered, it can help identify a data breach sooner rather than later and action can be taken to mitigate the financial risks or impact on the reputation of your business.

Prepare against future data breaches
A dark web scan can provide insight into past breaches and the data which was compromised. Our deep and dark web monitoring specialists can then, as a result, identify vulnerable systems and processes and use this information to develop a robust plan to protect against future attacks, including additional employee training measures, regular system scans and other protective measures.

Protect staff and customer data
As a business, you are the guardian of the personal data of both your employees and your customers. So, it is your responsibility to protect this data against cybercrime and minimise risk of it falling into the wrong hands. Dark web monitoring will identify company account information on the dark web, allowing for quick action to prevent hackers gaining access to your systems to steal or delete data.

Breach alerts
Our dark web monitoring service monitors your domain exposure and provides instant alerts when evidence of a new breach is found on the dark web. This enables your account manager to work with you to quickly respond by verifying and updating passwords, securing your business against the risk of stolen credentials and closing the attack window.

Monthly reports
Your monthly report covers all the information your business needs to stay protected against stolen credentials on the dark web, including the exact stolen passwords and PII so you can quickly and easily mitigate the risk. Your account manager will work closely alongside your business, monitoring these reports and suggesting additional measure where needed to minimise risk.

Increase employee awareness
Alerts and dark web monitoring reports contain information about the addresses and accounts that are at risk from the data breach, clearly identifying the employee(s) effected. Combining this service with GDPR and awareness training will help employee adopt a culture of cyber security, raising awareness, and reducing the risks of them causing security incidents in the future.
How dark web monitoring protects your business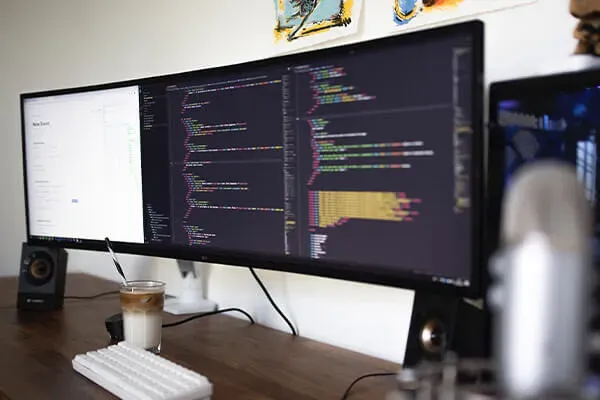 Gain visibility of dark web exposure
Understanding your business' exposure on the dark web is the first step to neutralising the threat of stolen login credentials. Our dark web monitoring tools scan the dark web for your business domains and reports back all cases where employees credentials are appearing on the dark web.
This useful information gives your business an initial understanding of the risk you are facing and the ability to reduce the time between a data breach occurring and finding out that it occurred. Without dark web monitoring services in place, businesses can potentially spend a long unaware that a data breach has occurred, our 24/7 monitoring of the dark web enables your business to promptly identify when sensitive information falls into the hands of cybercriminals. This in turn also reduces the overall window of opportunity that a criminal has to make copies of sensitive data and sell it, further increasing your dark web exposure.
Follow up a dark web scan with immediate remediation
Your dedicated account manager will provide remediation advice with your dark web monitoring report to update passwords where required, and suggest further action where needed. This is the most important step you can take to reduce the threat of stolen credentials, as you can address any risks associated with a breach and put preventative measures in place to plan for the future.
In addition to this we will also advise that you put the correct cyber security policies (i.e a strong password policy) and relevant technology in place (i.e a password manager, multi-factor authentication, vulnerability scanning, GDPR training and security awareness training) to further protect your business from hackers. Your account manager will work closely with your to monitor your business needs and access what additional measures may be required.
Your dashboard and dark web exposure reports
Our dark web monitoring services allow you to track your dark web exposure and remediation progress in your CyberSight portal. Here you'll find the records identified to be available on the dark web, the source of the breach and sometimes the passwords that have been hit. Stay on top of your remediation progress by marking records as 'complete' once you have changed the corresponding account passwords.
Your monthly reports include the same information, as well as new breaches found on the dark web.
Not signed up for dark web monitoring? You can request a one time FREE EXPOSURE REPORT to see what potential risks are facing your business and how dark web monitoring services can protect your business going forward.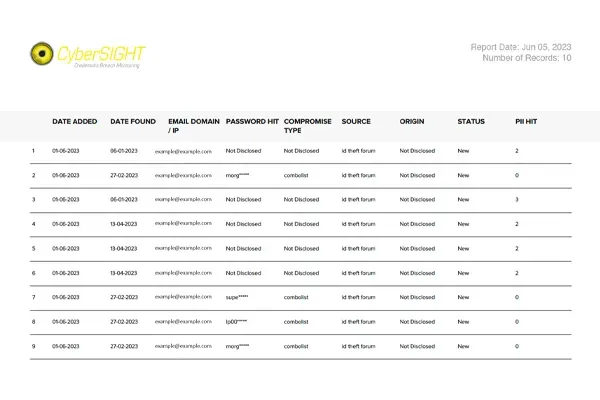 Frequently asked questions
What are dark web monitoring services?
Dark web monitoring is a service that monitors the dark web, which is a part of the internet that is not indexed by search engines and is often associated with illegal activities. Dark web monitoring aims to identify and track any sensitive or confidential information that may have been compromised or exposed on the dark web. This can include personal information, credit/debit card details, addresses, company data or login credentials. By monitoring the dark web, businesses can proactively detect potential security breaches and take appropriate actions to mitigate the risks.
What is a dark web scan?
Dark web monitoring services provide dark web scanning to analyse your businesses exposure on the dark web. A dark web scan is a process that involves searching the dark web for any instances of specific information relating to a business or person, such as personal data, login credentials or payment information, that may have been compromised or exposed. The dark web scanning service involves experts using specialised tools to access and search the dark web for any mentions or listings of the specified information. The purpose of a dark web scan is to identify if any sensitive data associated with an individual or organisation is being traded, sold, or shared on the dark web.
The information gained from a dark web scan can then be used to take necessary actions, such as changing passwords or notifying affected individuals, to mitigate potential risks and protect against cybercriminals.
What does it mean if company data was found on the dark web?
If dark web monitoring services find that your business passwords are discovered on the dark web, as a business you need to take decisive action to prevent potential loss or theft of data, and put preventative measures in place to mitigate the risk of this happening again the future.
Discovering your company's data on the dark web is a serious concern as it can lead to potential risks, including identity theft, fraud, or reputational damage. Your business should change passwords immediately, and consider the of use a password manager tool and implementing a password expiration policy. To fully protect your business, consider implement single sign-on and multi-factor authentication methods, if you ever have any consider consider contacting one of our cyber security specialists who can help ensure preventative measure are in place.
What is the deep web?
The deep web is a vast collection of websites on the internet that are hidden and can't be accessed through the world wide web. It is used to store private and protected sites which are accessed via passwords and authentication. This can include password-protected social media or online banking sites, business intranets or retail sites hosting sensitive customer data.
Is dark web monitoring safe?
Dark web monitoring is perfectly safe. The dark web's privacy and anonymity means it serves as a venue for people who want to stay hidden. Our deep and dark web monitoring specailists use this to perform scans to search for data relating to businesses to make reports and prevent cyber security insidents based on your exposure.
Can you be tracked on the dark web?
Our cyber specialists will use industry-leading monitoring technology and tools to track the presence of your company on the dark web. Our deep and dark web monitoring specialists will constantly monitoring your businesses exposure and keep you updated on any breaches of security.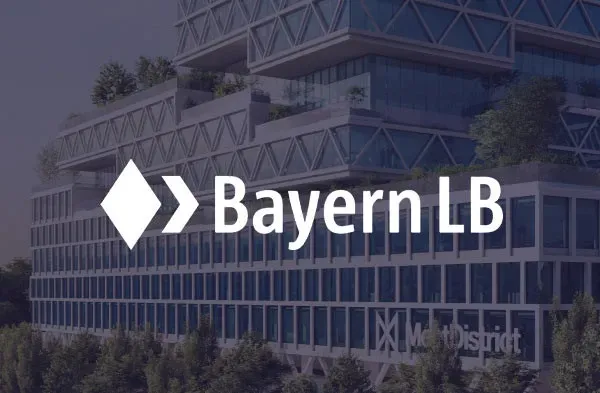 BayernLB
BayernLB engaged Focus Group to improve its connectivity, optimise productivity and enhance its working environment.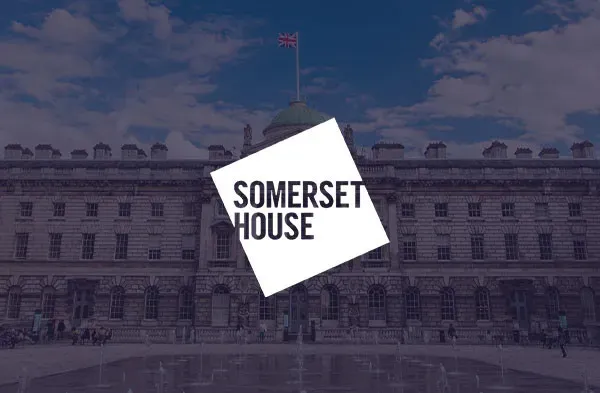 Somerset House
Focus Group guided Somerset House through the adoption of a cloud-first strategy to enable a future-proof digital transformation.
Want a dark web analysis?
Speak with a cyber security expert today for a complete cyber review and solution.