Latest technology trends in information technology 2023
Author: Mick McLean | Date published: March 7, 2023, UK | Read est: 5 min read
What should your IT teams concentrate on this year? Mitigating cost, reducing complexity and introducing more consistency.
Over the last few years, we have seen organisations rush to the cloud in the latest technology trends in an attempt to modernise operations and while this has helped create more freedom and greater productivity for the user, this often means IT teams are left trying to connect and secure disparate systems, with tools that don't quite meet the needs of the "new world".
While the solution to these challenges will look different for everyone, we've seen a few common approaches to tackling these problems. These are three approaches we have seen IT teams take to reduce complexity and cost while creating consistency:
Secure Access Service Edge (SASE)
Zero Trust (ZTNA)
Cloud Adoption Framework (CAF)
In this article we will explain how you can leverage these strategies to help improve your overall operation, with three FREE assessments that will help you understand how to optimise your estate.
Information technology trends
Information technology today is evolving at a rapid pace, enabling faster data processing, enhanced security and rapid changes in processes that optimise business efficiencies. Though accelerated by the Covid-19 pandemic, businesses are looking to move towards a more productive and secure future with the latest 2023 information technology trends showing an increased momentum in movement to the cloud, both with the rise of hybrid working and the imminent PSTN switch off resulting in the push to adapt cloud telephony.
There are a number of latest technology trends in information technology, here are a number of them to help you optimise your IT operations, mitigate cost, reduce complexity & introduce consistency in 2023.
Secure Access Service Edge (SASE)
Reduce complexity & mitigate cost
SASE (pronounced "sassy") is the convergence of networking and security architectures into one overarching cloud-delivered approach to your IT estate. With hybrid workers accessing cloud-based applications and data outside of the network, SASE brings enhanced security and visibility back to these users– exposing key risks, but also opportunities for operational and cost optimisation.
Key technologies you will see deployed include:
SD-WAN
NGFW
FWaaS
ZTNA
CASB
SWG
Many vendors now offer SASE solutions, allowing you to streamline the number of vendors and products you deploy and maintain. By consolidating your network, cloud and security products under 2-4 vendors, you can achieve cost savings, as well as enhanced security and interoperability.
Zero Trust
A consistent user experience
While Zero Trust Networking Access (ZTNA) is a relatively new concept, it has quickly captured attention for being a clear way of securely connecting all your applications and data to your users and devices.
ZTNA is a framework, rather than a product or service, and describes least privilege, identity-based contextual access to your data and applications. Users are given specific access to organisational assets based on their requirements. Its use of contextual access means that users can work from anywhere, from any device, to access any resource – as dictated by policy.
Key technologies you will see deployed include:
Data loss prevention (DLP)
Cloud access security broker (CASB)
Multifactor authentication (MFA)
Network/micro segmentation
In contrast to traditional security models in which access is granted based on the trust inherently placed in the network perimeter, Zero Trust networks require authentication for all access. It will continuously monitor and verify the identity of users and devices attempting to access resources.
This allows organisations to establish (and quickly enforce) consistent controls, increasing security and reducing manual intervention. It also improves the user experience as employees will follow the same easy journey to reach their destination through your chosen broker, no matter where the data is stored. It also allows IT teams to migrate data and applications in the background (e.g exiting from a Data Centre) without affecting the user journey.
Cloud Adoption Framework
Introduce consistency & change cost models
Moving workloads to the cloud is a proven way to make your IT operation more efficient, sustainable and cost-effective. Successful cloud migrations go through the Cloud Adoption Framework, using it as an established basis for choosing and moving the right applications to the cloud, based on your organisation's requirements.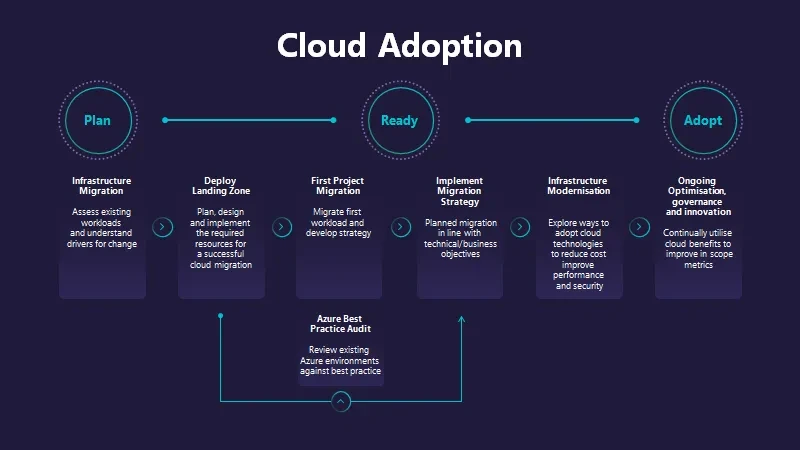 While moving to the cloud isn't a new concept, many organisations have been forced to migrate quickly and could be overspending on resource because the estate hasn't been optimised for their requirements. Many companies have found themselves simply replicating their on-premise operation in the cloud, instead of rightsizing, using the cloud to scale when capacity is needed.
Not only does this mean potential cost savings, but it gives a great opportunity to see what else can be migrated, moving IT operations to a subscription based model instead of needing capital investment.
Three free assessments to optimise your IT operations
The first step in creating a more unified network, cloud and security strategy is to benchmark your current operation. Here are three free assessments* you can use to audit your current estate:
Cloud Migration Assessment
Cloud Security
Security Lifecycle Review
This free assessment audits your on-premise infrastructure and maps your requirements to an Azure environment.
Realising the benefits of the cloud doesn't always mean a virtual like-for-like infrastructure and this report highlights the changes that can be made to reduce your technology stack, therefore reducing your costs, labour and carbon footprint.
365 & Cloud Security
The cloud security assessment is an analysis of your security posture, evaluating vulnerabilities, identity and compliance risks with remediation recommendations, across Microsoft 365, on premise assets and Azure.
A Security Lifecycle Review (SLR) is a quick and easy way to view applications, threats and vulnerabilities on your network. The report provides details on software-as-a-service (SaaS) and other applications, URL traffic, content types, IoT devices and known/unknown threats traversing your network, as well as comprehensive recommendations on the highest risks and priority areas to focus on.
*Subject to qualification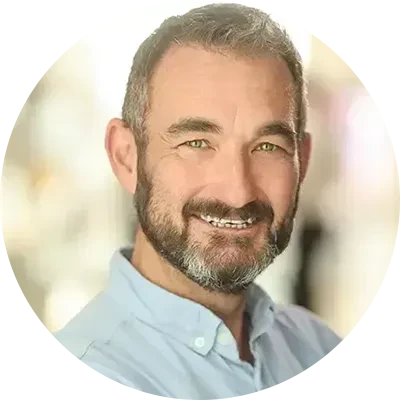 Mick McLean
Head of Enterprise Solutions
Focus Group welcomed Mick in 2022. Playing a fundamental role of our Enterprise team, Mick is laser-focused on delivering an outstanding customer experience, through every interaction with Focus Group. Mick ensures we maintain our position as a trusted and expert digital transformation partner.