Tech takeover: the impact of new technology on today's workplace
Author: Leon Windsor | Date published: May 16, 2023, UK | Read est: 6 min read
New technology plays a fundamental role in the formation of a modern workplace. From cloud-hosted phone systems and online collaboration platforms to artificial intelligence and automation services; technology is rapidly transforming the way businesses of every size operate.
In this article, we drill down into the pros (and cons) of emerging tech and its impact on organisations across the UK. We'll look at some of the popular new modern workplace technologies available, the challenges surrounding productivity, the effect of remote working on office culture and the benefits of a comprehensive hybrid working strategy.
The core benefits of evolving technology
In this fast-changing environment, it is essential for business leaders and decision makers to understand and embrace these advancements, especially given the powerful benefits which can be achieved through the adoption of innovative new technology. These overarching benefits include increased operational efficiencies, cost-savings, improved team collaborations and enhanced customer experience, to name just a few outstanding outcomes.
Furthermore, the digital revolution is mobilising workforces across the world – enabling individuals to work flexibly, from home, in a traditional office or on the move. Indeed many employees and employers are now in a position to choose a 'hybrid working' model to suit lifestyles, job roles and/or geographical locations.
Is your business future-ready?
Is digital opinion divided?
It's worth noting at this stage that the transition to digital transformation has not been easy for all UK businesses. PwC research reveals a significant split among employees, with 55% of respondents saying productivity has improved, while 44% say it has been negatively impacted.
This divided opinion supports the concept that while modern technology in the workplace boasts many benefits to businesses, there definitely isn't a 'one size fits all' solution. This in turn presents several challenges to businesses that have more complex requirements when it comes to operational functionality.
The benefits of embracing a Modern Workplace
Whilst it's important to recognise the challenges associated with integrating new technology and changing working environments, there are some simple but strategic implementations which can offset any issues in order to maximise the benefits of embracing modern technology in the workplace.
The core benefits of embracing modern technology include:
Keeping ahead of the competition
Business agility; supporting the ever-changing needs of customers and employees
Reliability that comes with new network infrastructure
Consistency for your business and overall brand
Strengthened communication and customer experience
It is imperative for business owners to keep up to date with the latest technological advancements and understand the role of technology in the workplace to remain competitive in today's fast-evolving business landscape.
Business technology: an obstacle or solution to productivity?
The productivity problem has been a longstanding issue in the UK and remains the root cause of struggles among growing businesses trying to reach their full potential. While several new technologies aid businesses in their transition to becoming a truly modern workplace, there are undoubtedly elements of every workplace that require in-person attendance for collaboration.
An article published by PwC suggested that the issue was related to a lack of proper training, support and upskilling for employees on new processes and technologies, subsequently reducing productivity as opposed to increasing it.
Digital Workplace: the solution to the UK's productivity problem
If you fail to prepare, you prepare to fail. However, if you prioritise a comprehensive implementation strategy for new technologies, processes and working environments, your business will benefit from a custom-designed modern workplace solution that enables your team to work from anywhere at any time, without compromising on quality service delivery and staff well-being.
Change can be difficult, but embracing new technologies is imperative for any business looking to stay ahead of the curve and meet their customers growing demands. With the support of Focus Group, integrating new technology into your modern workplace will transform the way you do business for the better. You'll have opportunities to improve your customer lifecycle, streamline processes, increase collaboration and bolster your brand above the noise.
Communication and collaboration
Advances in technology have enabled businesses all over the globe to completely mobilise workforces; offer flexibility to staff and increase the ease of communication and collaboration for improved productivity and staff well-being.
For several years businesses across the world have relied heavily on the power of face-to-face collaboration. Whether it's the daily commute or catching trains and flights to ensure deals are made, all these collaboration and communication options require employees to juggle time, resources and overheads to make business happen.
From emails and instant messages to video calls and a full suite of digital services, businesses of every size and sector have been given the opportunity to optimise modern technology in the workplace for a more efficient approach to doing business and it's not business as usual.
When asked "how has new technology affected the modern workplace?" the answer is undoubtedly…"More than we ever could have imagined."
Modern workplaces have been single-handedly transformed by new technology, driving productivity, communication and collaboration to new heights – while improving the lives of employees with the flexibility they need to create a better balance between work and life.
The 'C' word
2022 was the worst year on record for cyber attacks. While remote work can provide many benefits, it also presents unique cyber security challenges. Businesses using modern workplace model should ensure remote employees are taking additional precautions while accessing company data and systems from unsecured networks or personal devices. As such, it is crucial for businesses to ensure their employees have access to the right tools and information to minimise the risks and support their safe access to private information.
By implementing strong authentication measures, regularly updating security software and providing employees with clear guidelines for working securely from remote locations businesses can help protect their sensitive data and ensure that their remote employees are able to work safely and securely with confidence.
Remote working: the impact on office culture
Remote or hybrid working can undoubtedly change the dynamics of established office culture and the maintenance of that concept.
The Modern Workplace, however, is about striking a new balance for your business and your employees for optimised productivity and well-being, without compromising on communication and collaboration opportunities.
When employees are working remotely, they may miss out on some of the social interactions and shared experiences that are common in an office setting, such as casual conversations, office events and team-building activities.
However, with the rise of digital communication tools, remote teams can still build a strong sense of camaraderie and maintain a positive office culture by prioritising regular check-ins, virtual team-building events and collaboration on shared projects.
People power
The truly Modern Workplace is about finding the right balance for ALL your people. Managing and coordinating teams efficiently is imperative to the maintenance of a modern workplace, one which fosters a healthy office AND a flexible remote working culture.
Ultimately in any business, there may be several people with different working situations to consider. From working in different time zones to flexible working hours and those only working part-time, recognising all these differences can contribute to a positive team outlook and workplace culture.
Tech takeover. Are you ready?
The modern workplace allows for more inclusion, flexible hours, talent acquisition from all over the globe and the integration of new and exciting technology that allows businesses to optimise their productivity. However, this only works if a company is willing to put in the time and effort.
The modern workplace is not something businesses can achieve overnight – with a concerted effort and a comprehensive implementation strategy to ensure communication, applications, security and management tools are all up to date and working together, businesses can create a strong sense of company culture (even in remote locations) while maintaining superior customer service and achieving delivery objectives.
Ultimately, the modern workplace is never a finished job – with rapid updates to the technology in our fast-moving digital climate, there will always be new technology that affects the modern workplace set-up.
Let's talk about how your Modern Workplace could set you up for the future >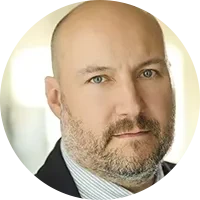 Leon Windsor
Head of IT
Leon Windsor has 20 years of experience in the technology sector. His role is to continually deliver new and innovative product and service offerings to our customers, ensuring the products we offer are designed with each individual customer in mind. Leon ensures IT is at the forefront at Focus Group, helping to add genuine value to our customer propositions and ensuring we are so much more than just a convenient 'one stop shop'.