Apprentices: the next generation
Author: Sonia Older | Date published: February 7, 2023, UK | Read est: 5 min read
Meet our apprentices
Apprenticeships are a great work-based qualification route. They combine academic study with real life, on-the-job training enabling you to gain industry specific skills, work experience, a nationally recognised qualification and you'll even get paid!
We offer apprenticeships across a wide range of roles, from sales to engineering, marketing, project management and finance, as well as everything in between.
Think you have to choose between university and an apprenticeship? Think again! Apprenticeships can lead to a degree qualification and better still, employers cover the costs. Read on to hear from some of our past and current apprentices…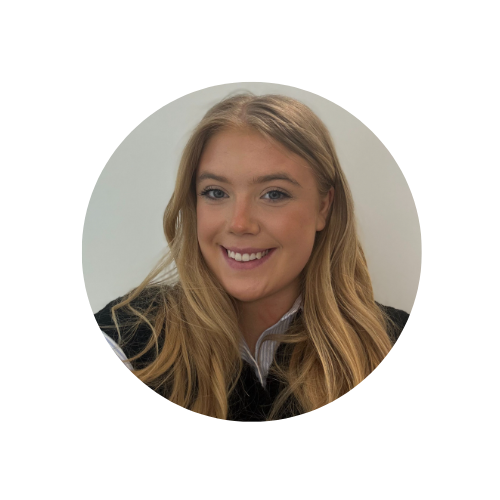 Malva Wedberg
Sales apprentice
Start date: 2022
Tell us a bit about yourself & the name of your apprenticeship
I am 19 years old and moved to England from Sweden around six years ago. I am currently enrolled on a Sales Level 4 apprenticeship with the Business Development team at Focus Group.
Why did you apply for this apprenticeship?
I was diagnosed with ADHD at the age of 16 which means I learn differently from my peers. I dropped out of college after my first year and started an AAT accounting course while working in the aviation sector. I quickly realised that I learned better on the job. Earning a qualification while getting on really appealed to me. That is why I applied for this apprenticeship; I knew that sales is something I would enjoy - I can talk for days!
What did your first week as an apprentice look like?
My first week pretty much looked the same as any new starter who was not on an apprenticeship, a lot of training and on boarding. The only difference was that my apprenticeship provider and tutor came in and to talk me through the coming year.
Are there any skills you would recommend for this role?
This role is not for the weak. You need thick skin and self-motivation. A great telephone manner is a must when speaking to potential customers- you need to build rapport and make your conversations memorable!
What are your future goals?
I want to grow my career within Focus Group, to be able to sell products myself and manage my own accounts. I have always been very independent so one of my goals outside of work is to be able to be able to support and build a life for myself.
What are you enjoying most about your apprenticeship at Focus Group?
Learning new skills and the support that you are given. It is easy to expect that you will be treated like an apprentice but that's not the case at all. I am equally as knowledgeable as others I joined with. Everyone who work's here are so willing to help and want to see you succeed. I have a great relationship with my manager and team, who are always happy to help me on my projects.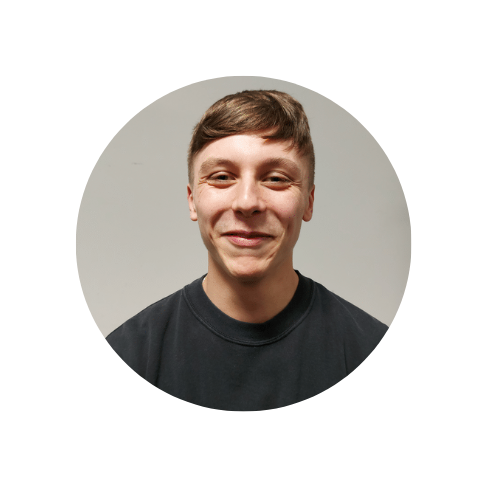 Sonny Love
Apprentice Service Delivery Desk Engineer
Start date: 2020
Why did you decide to become an apprentice?
My dad worked in telecommunications for nearly 20 years, and he works at Focus Group as a technical specialist. I had always wanted to work in the telecoms industry as I heard so much about Focus Group and its culture. It is an industry that is constantly evolving, and Focus Group have great opportunities for a further career path.
Why did you decide an apprenticeship would be a good place for you to begin you career?
The apprenticeship at Focus Group has given me the best steppingstone to start my career in Telecommunications. This will give me a much better understanding of the industry and the technology around it.
What are you studying at college and how will these skills help you in your role?
On my course so far I've learnt about networking fundamentals/ Operating Systems/Virtual Environments/ LANS/ WANS/ WIFI/ CMD. This has helped me amazingly. As this gives me a much greater understanding what I am doing and why.
This really helps me understand my job when dealing with faults live in my role. As I am installing over the phone it gives me an understand of the fundamentals as it gets put together on site. The client is my eyes and I must envision what they are explaining and piece it all together.
What do you enjoy most about your job and working for Focus Group?
I love working with my team and enjoy speaking to different customers daily. This is helping them setup their sites and this gives me a real sense of achievement each time I complete a job. Focus Group have really made me feel welcome sine the day I started.
What are your aspirations for the future?
I aspire to learn and receive a greater knowledge and understanding of what I do. I look to learn other products that focus Group supply and support so I can assist further and greater comprehension. I am looking to learn to drive as soon as I can but has been very difficult now for obvious reasons. I hope to excel in my apprenticeship, so I am further employed at Focus Group.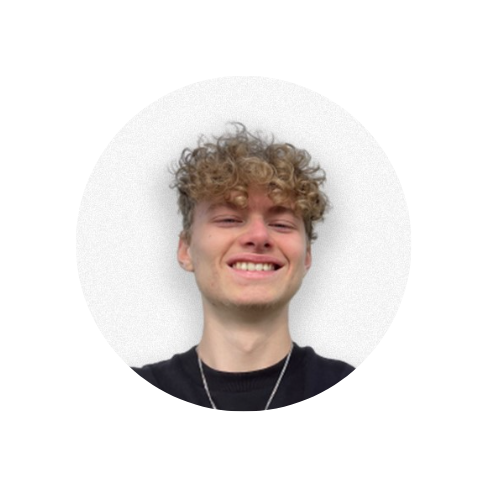 Theo Wood
Marketing apprentice
Start date: 2022
Tell us a bit about yourself & the name of your apprenticeship
My name is Theo. I am a 20-year-old from Brighton currently studying towards a Level 3 Digital Marketing apprenticeship at Focus Group.
Why did you apply for this apprenticeship?
I previously worked at Boundary Brighton as their marketing manager and after 15 months decided I wanted to do an apprenticeship to continue my career within digital marketing while learning towards a qualification. As soon as the opportunity opened up with Focus Group I immediately jumped on it as I knew it was a perfect match for me.
The benefits of an apprenticeship are endless. You get real-time experience within the digital marketing industry, a monthly salary and all of the benefits a normal employee receives which can make it significantly more appealing than a university degree.
What did your first week as an apprentice look like?
During my first week, I was introduced to everyone within the marketing team and began to familiarise myself with all of Focus Group's internal processes. The training sessions I received allowed me to gain a greater understanding of the products that Focus Group offers. I also received access to the online learning portal which gave me a whole host of useful resources to complete.
Are there any skills you would recommend for this role?
After starting my apprenticeship, I would highly recommend doing the free analytics courses that Google offers. Data plays a vital role in any digital marketing position and knowing how to correctly analyse data will stand you in good stead with any company. Remember – data is king (if you know what to do with it)!
What are your future goals?
I would like to continue to pursue my career in digital marketing and ultimately aim towards doing a degree-level apprenticeship. The end goal is to have enough knowledge and experience to start up my own digital marketing agency.
What are you enjoying most about your apprenticeship at Focus Group?
I love having the opportunity to learn loads of new, valuable skills on a daily basis. The work itself is always ever-changing and constantly pushes me to do better. My colleagues are always super supportive, and I know that I can always ask for help whenever I am struggling with my work.
Adam Stewart
Service delivery desk engineer
Start date: 2018
Why did you decide to become an apprentice?
While in school I always knew that I wanted to do a practical job and get a trade and I was fortunate enough that when I left school Resource Telecom were looking to take on an apprentice and fortunately enough for myself, I applied and was successful in the process. I felt that for myself an apprenticeship was the best route to go down as I am a practical learner and learning while earning really appealed to me.
What do you enjoy most about being an apprentice?
The things I enjoy most about being an apprentice is the ability to learn while I earn and improve my skills and knowledge while working with individuals who have a vast amount of experience. I like the freedom I have, to work with multiple engineers and experience different methods of work to achieve the same end goal and find what works best for myself. I also enjoy the customer interaction side of my role where I interact with a number of different customers on a day-to-day basis and experience the different faults that may occur and use the knowledge and skills I have gained to get to the bottom and resolve any issues customers may face.
What are some of the main things you have learned?
During my time with the company, I have gained a huge variety of skills from programming to fault finding and I have had the opportunities to use and improve on what I have learned on-site and, in the office, to improve both the customers experience and my own. I have also been learning a different side to my role recently using my already gained knowledge to the best of my abilities, allowing me to branch out and aid other departments within the company, all while providing the best experience we can for the end customer.
Where do you see yourself in 5 years?
In 5 years, I hope to be either a fully qualified field engineer or a fully qualified desk engineer running remote install projects to provide the customer as smooth a process from start to finish as I possibly can. I also intend to continue to improve my skills and knowledge in the hope that one day I can pass it on the same way the engineers I work closely with have been able to pass on their knowledge to myself.
If you could say anything to future apprentices who are thinking about choosing this path, what would you say?
100% go for it, if you have the opportunity jump at it with both feet, keep an open mind, and be willing to work hard and try something new.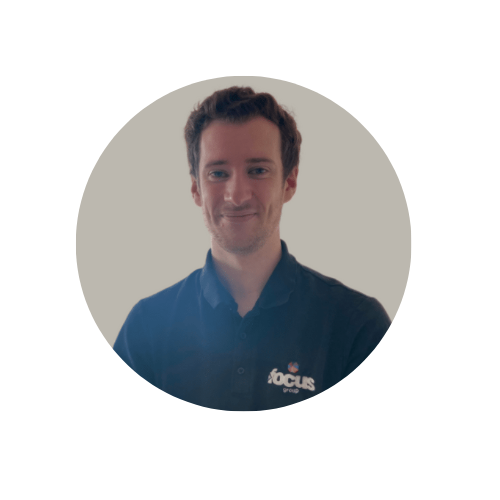 Cameron Balfour
Enterprise technical portfolio lead
Start date: 2012
How did you find out about Focus Group?
My nan found an article for an apprenticeship scheme (tempus training) in a newspaper who subsequently found me the apprenticeship at Focus Group.
Can you talk us through your career with Focus?
I've worked in a number of roles for Focus Group over the last ten years. The first of which was on the IT service desk for approximately 3 years, I then proceeded into an IT field engineering role for another three years by the end of which I had progressed to being a senior engineer and then onto being Focus Groups IT Technical Lead responsible for delivering the largest IT projects from a technical perspective. Eventually the decision was made for me to become office based due to the demand for large IT projects which I was solely responsible for around a year before the IT projects team was formed around me and I was promoted to IT Projects Lead due to the growth of the business and demand for our services. Since the beginning of 2021 I have been leading more enterprise level projects for well-known high-street brands such as FatFace, B&M and Leaders Romans Group.
What's the best thing about working for Focus Group?
Room to grow, Focus Group has always been a fantastic place to learn and grow as an individual. Management have always been very supportive of me since day one which has allowed me to learn the skills that I need at a fast pace whilst still delivering a quality service. Having been at Focus Group since a time when the business was much smaller than it is today, I have also had the opportunity to grow alongside the business as well as some of the other Focus Group veterans out there!
Is there is a manager you aspire too in the business?
Yes, Dave Bennett. When I first joined the business, Dave was a field engineer who I often worked closely with for installs during the week and at weekends. He has since risen to the position of Head of IT Technical and has been my line manager for the majority of my time at Focus Group. Dave has always been an excellent leader and teacher both for myself and my colleagues.
One piece of advice to anybody thinking of starting an apprenticeship?
Do it! My personal opinion on this subject is that it is the best way to get real life practical experience as quickly as possible. I myself do not hold any university degrees as I am not a very academic individual however feel that the decision to opt for an apprenticeship is what has allowed me to get ahead in my career.
Sonia Older
Brand & Campaign Manager
Sonia Older is the Campaign Manager at Focus Group and a highly experienced copywriter. She boasts over 20 years of experience in content marketing and PR across multiple industries, and is the key driver of content and PR for Focus Group across all UK offices. Away from work, Sonia usually swaps keyboard strokes for ski slopes in the Alps with her family.