Accelerating digital transformation in social housing with SASE
Author: Mick McLean | Date published: September, 20, 2023, UK | Read est: 5 min read
The digital backbone supporting social housing is undergoing a profound transformation. At the forefront of this change is Secure Access Service Edge (SASE), a pioneering approach to architecture that converges network and security services into a single, cloud-based model. This shift not only streamlines operations but also reinforces cyber security, a pressing concern within the social housing landscape. By integrating SASE, organisations are better equipped to serve tenants and other stakeholders, while effectively navigating the ongoing challenges that come with digital transformation.
The Digital Transformation Journey in Social Housing
The social housing sector has long been ripe for a digital overhaul. Historically held back by legacy systems, limited resources and complex regulatory landscapes, social housing providers are increasingly gravitating towards digital solutions that enhance efficiency and improve tenant satisfaction. The journey to digital transformation in the sector is characterised by the adoption of technologies that enhance connectivity, improve data handling and secure tenant interactions, making SASE an area of focus.
SASE stands out with its comprehensive, unified approach to networking and security. It combines VPN and SD-WAN capabilities with cloud-native security functions such as secure web gateways, cloud access security brokers, firewalls, and zero trust network access. This combination is well-suited to meet the needs of social housing providers.
With a focus on simplifying the management of network and security services, SASE can help social housing organisations overcome technical debt, optimise their digital infrastructure and enhance the quality of their tenant services. It's rapidly becoming an essential infrastructure for social housing providers at every step of their digital transformation journey, equipping them to face an increasingly connected world in which cyber security poses a constant threat.
Unpacking the value of SASE
Gartner predicts that by 2025, 80% of enterprises1 will have adopted a strategy to unify web, cloud services and private application access using a SASE/SSE architecture. At its core, SASE enables an approach designed for the 'anywhere' and 'anytime' nature of today's digital world, ensuring secure and fast access to applications, no matter the user's location or the device they're using.
In the context of social housing, SASE fulfils a variety of functions. Firstly, it ensures the integrity of the housing providers' digital infrastructure, offering protection against escalating cyber threats. Secondly, it facilitates remote work and digital services, helping to reduce operational costs and increase efficiency. Finally, it supports regulatory compliance, aligning with key digital safety standards. SASE, therefore, is more than just a technology solution; it's a strategic enabler, integral to the digital transformation journey of social housing providers.
Navigating Social Housing challenges with SASE capabilities
Social housing is confronted with a variety of challenges, ranging from a rapidly evolving cyber threat landscape to the demand for improved tenant services. Last year, the largest housing association2 in the UK suffered a major attack, affecting the data security of 124,000 homes and the personal details of numerous residents, which underscored the urgent need for robust cyber security measures within social housing organisations. Such challenges are further amplified by the pressure to streamline resources and conform to new regulatory requirements, such as the provisions of the Social Housing White Paper3 and the Fire Safety Act 20214, which aim to drive safety, accountability and inclusion in the sector. This is where SASE plays a crucial role, offering a tailored solution that tackles these difficulties head-on.
By combining networking and security services into a unified solution, SASE not only secures digital infrastructure against cyber threats but also enhances the delivery of tenant services by supporting secure and reliable remote access. Its scalability allows it to adapt to varying user demands, making it a cost-effective solution for housing providers. Moreover, its focus on identity and access management aligns perfectly with compliance needs, allowing for secure data handling in line with regulations.
Preparing for the unexpected
The role of SASE in response to and recovery from crises is increasingly recognised as crucial within the social housing sector. As providers grapple with evolving operational landscapes, especially in light of the rise of remote work and geographically dispersed teams, SASE's comprehensive security and networking capabilities have emerged as critical facilitators of resilience and adaptability.
Central to this is SASE's zero trust security model, which mandates that all connections must be validated before access is granted, irrespective of the user, location or device. This creates an identity-driven security approach that always explicitly verifies access requests, is based on least privileged access and ultimately delivers enhanced protection and a consistent user experience, reducing error and fatigue. This robust security approach serves as an enabler for remote work, helping to mitigate the risks associated with potential cyber threats.
Furthermore, the SASE model supports recovery and business continuity by facilitating seamless collaboration and communication. It helps ensure that distributed teams can securely access necessary resources, thereby maintaining productivity during periods of disruption.
Perhaps most significantly, the flexibility inherent to SASE makes it a future-ready solution, capable of adapting to changing circumstances. As the social housing sector continues to navigate the twists and turns of the digital era, SASE is a forward-looking strategy that enables organisations to tackle current challenges while also preparing for the uncertainties of the future.
Integrating SASE into Social Housing strategy
SASE adoption isn't an overnight process, but rather an ongoing journey for your organisation to undertake. The first steps include assessing current infrastructure and defining access requirements to identify potential risks, with special consideration required on crucial aspects such as your operating model, in-house alignment and the integration requirements for each solution. SASE's flexible implementation means it doesn't need to be deployed all at once, which enables a controlled, phased approach.
Moreover, to ensure the full effectiveness of a SASE strategy, it's essential to map out your future needs alongside the requisite governance and policy requirements. This forward-thinking approach will lead to the development of a tailored SASE roadmap that not only secures the present but paves the way for a robust, efficient and digitally transformed future in your organisation.
Want to find out how SASE can enhance your security and operational efficiency, while promoting digital inclusion among your stakeholders?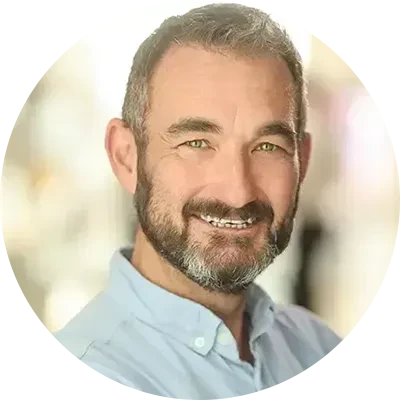 Mick McLean
Head of Enterprise Solutions
Focus Group welcomed Mick in 2022. Playing a fundamental role of our Enterprise team, Mick is laser-focused on delivering an outstanding customer experience, through every interaction with Focus Group. Mick ensures we maintain our position as a trusted and expert digital transformation partner.